This has certainly been one of the longest week of my life.
When Typhoon Yolanda was about to hit Philippines, we were all warned about how strong it was. That's why I allowed my team to head home early. Also the reason I stayed up all night expecting the worst to happen, like heavy rainfall and strong winds. Fortunately, for us in Manila, that never came.
However, it was only in the next few days that I found out just how bad it was in the Visayas. Much has been written about the devastation so I'd rather not talk about them.
Instead, I want to focus on the goodness that I have witnessed this past week.
Big and Small Companies
A wonderful thing that I saw was how businesses came through to help last week. There were stories of donations from large companies like SM and Ayala, but the amazing thing was that smaller companies, particularly restaurants chipped in. The number of #DineForACause programs was crazy.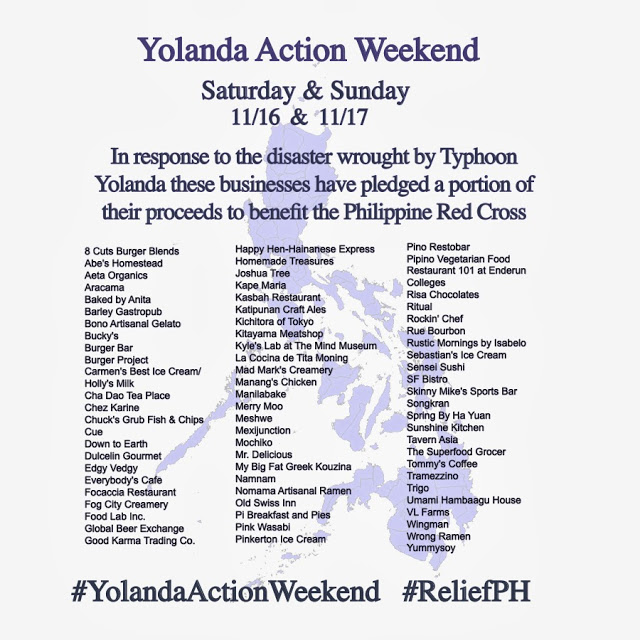 On a more personal level, it was easy to convince folks to make Basty's another drop-off point for donations just like how we did it during Typhoon Maring. We worked with some friends to pick up the goods and the donation box (even the walkway) was so full that we had to ask them to make a daily pick-up.
Click here to view the entire set: http://www.flickr.com/photos/ryansalvanera/sets/72157637738233985/
My brother then recommended that we do our own version of #DineForACause at our Kowloon House branch. Again, the idea was supported by our other partner. We informed the head office to allow us to post flyers. They went beyond it and actually donated a couple of cases of water for the cause.
Friends Coming Together
Another beautiful thing I saw was how a bunch of old friends came together to help out a friend whose wife as in Tacloban, one of the hardest hit cities. He was distraught after not hearing from her after the typhoon, so the gang came together to offer moral as well as financial support. He is now back in Manila after what he calls a really crazy trip via Manila – Cebu – Ormoc – Tacloban – Ormoc – Cebu – Manila. He actually could not find words to explain what he witnessed but he sent me links to them.
Ordinary Filipinos
Then of course, there are so many other stories of ordinary folks doing extra-ordinary things.
My officemates, friends and the wifey who made time to go to the Army Gym to re-pack
My friends who conducted their own donation drive and even had our own mini assembly line
My brother who sold off his whisky collection with all proceeds to be donated.
The men and women (for others) who are working round-the-clock at the Ateneo Covered Courts

Man those (rice and goods) sacks are HEAVY!!!

Ballers who organised donation drives (including this: Ball 4 a Cause)
And countless more
Friends From All Over
Of course, help from outside have also poured in. Apart from the donations sent in by countries, I also saw some of my (non-Filipino) friends overseas share information on Social Media on how to help out, including this image from a friend in Brunei where they were re-packing till the wee hours last night.
To all of you, thank you from the Filipino People
Special thanks to my friends who reached out to me directly to ask about my situation. 🙂
The Filipino Spirit
I am still saddened by the devastation and I continue to pray for those who passed away and for those who lost their loved ones. However, because of what I have witnessed, I remain hopeful.
When everything else is taken away, broken and battered, soaked raw, stripped bare, you see things. You see people as they really are. This week in Tacloban, Samar and Cebu, amidst the hunger and thirst, the chaos and confusion, we've seen the best in the Filipino people. Their strength, their courage, I can't get it out of my mind. Imagine the strength it takes for a mother to search alone for her missing kids, the strength to sleep; on the street near the body of your child.

We've seen people with every reason to despair, every right to be angry, instead find ways to laugh, and to love, to stand up, to move forward.

A storm breaks wood and bone, brings hurt and heartbreak. In the end, the wind, the water, the horror it brings is not the end of the story.

With aid and assistance, compassion and care, this place, these people…they will make it through. They already survived the worst. They're bowed, perhaps tired and traumatized, but they are not broken.

Mabuhay Philippines! Maraming salamat for all you've shown us. Maraming salamat for showing us all how to live.
Ryan Salvanera is an Executive Coach who helps teams and individuals maximize their unique powers, taking them from good to
great
to
AWESOME!
Ryan is the Founder of
Coach Rye
and a Co-Founder of
Wissen Solomon
and
StrengthsCoach.PH
.
Ryan's top five talent themes are:
Relator
,
Arranger
,
Learner
,
Maximizer
and
Individualization
.
Do you want a 30-minute complimentary coaching session with Coach Rye? Check out his availability here: Calendly.
Latest posts by Coach Rye (see all)